ACS Training

Our training is for Aboriginal and non – Aboriginal people. We are accredited trainers and have adult education qualifications. Our staff have professional facilitation experience at University, TAFE and the workplace. As professionals we adhere to high standards and ensure participants are supported and feel comfortable in our learning environment. We have completed courses by VETAB and understand the accreditation process.

Cultural Connections Workshop

ACS staff believes that Cultural Awareness Education is better described as 'Cultural Connections'. Our aim is to forge a connection between two cultures both in the workplace and life in general.

Cultural Connections facilitators are respectful and understanding about the sensitive and emotional information that it presented through this program. The facilitators re-enforce that the purpose of the workshop is not to cause guilt and in not way is it our intension. Participants are encouraged to take time out if they become distressed and are encouraged to share their own stories and thoughts through out the workshop. And as with all aspects of ACS work we are strict about the confidentiality of all participants.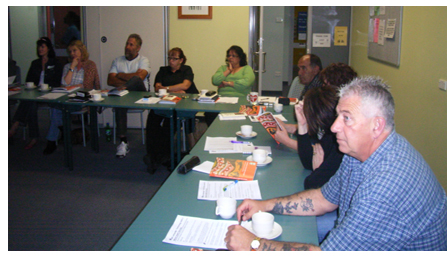 Background

Cultural awareness is the first step to reconciliation and understanding Aboriginal people and issues. Aboriginal Counselling Services has experienced the benefits of gaining awareness and understanding each other's cultural diversity. Cultural Connections is designed to help participants appreciate each other's diversity and value the cultural knowledge that they bring into the workplace. Workplace culture also has a unique environment and through Cultural Connections we aim to link the two cultures. By understanding both cultures, individuals, families and communities can grow.
The program: This program covers the following:

History since settlement
Identities and families
Racism
Communication
Health and Mental health
Learning outcomes: The participants will;

Have a better understanding of Aboriginal history and people.
Have an improved understanding of Aboriginal issues.
Have some practical skills when working / walking with Aboriginal people.
Understand workplace expectations and how it can suppsort staff.
Course Length: One day.
Cost: Charged per participant per day.


Mental Health First Aid

The Aboriginal Mental Health First Aid course is a course, which is designed to give Aboriginal people an insight to mental illness. Its purpose is to give participants skills to assist people who have been impacted by mental illness. Participants will learn how to assist people who are experiencing mental illness until professional help is available. The program is delivered in a way that is culturally sensitive and ensures an individuals safety and confidentiality is respected.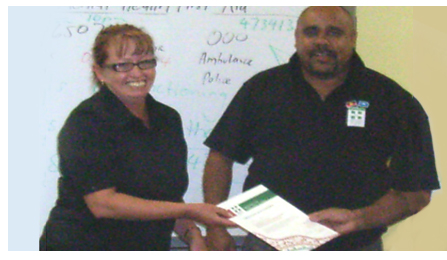 Background
I have worked in mental health for over eight years and had limited knowledge regarding mental health conditions. I knew how to access support but didn't have insight on how some of these specific conditions impacted individuals, families and the community. By me participating in this course, it has given me more insight, confidence and now I am more comfortable in assisting people who have been impacted by mental illness.
The mental health first aid course is a 12-hour course developed in 2000 by Betty Kitchener and Professor Tony Jorm with the aim to improve the mental health literacy of members of the Australian community. It is now auspiced by ORYGEN Research Centre at the University of Melbourne, Dept. of Psychiatry.
The Aboriginal and Torres Strait Islander Mental Health First Aid Course is designed as a 14 hour course. The course is designed to be conducted in 6 modules; however, the delivery format is flexible.
Learning Outcomes
Participants will learn about:
• Suicidal behaviors
• Acute psychotic behavior
• Depression
• Anxiety disorders and panic attacks
• Schizophrenia
• Bipolar disorder
• Substance use disorder
Participants will be given a workbook, certificate of attendance, and will have knowledge where to seek professional assistance or get help from their local area.
Course Length: 14 Hours – 2 day program (flexible delivery mode)
Cost: Charged per participant
Program Brochure
http://www.mhfa.com.au/documents/8077_Aboriginal_14hr_mhfa.pdf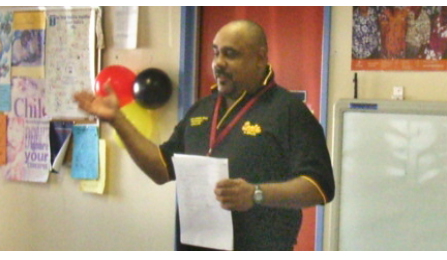 Mentoring / Buddy Program

I understand that it is often challenging for Aboriginal people to transition into work or workplaces, particularly mainstream workplaces and/or government departments where there are strict policies and procedures. Therefore, we have counselled many Aboriginal people and have heard their yarns of the struggles to balance work and family commitments.
This program was designed to assist people in a cultural sensitive and safe way to support each other to transition into a workplace and beyond. The facilitators have professional qualifications, skills and experience in mentoring and training, and have worked as mentors for Juvenile Justice. ACS have worked with government agencies in meeting some of the core objectives set out in their Aboriginal Employment Strategy.

Background
I have experienced many transitions into new workplaces and I have witnessed many Aboriginal colleagues struggle to transition into new workplaces. I have worked with many agencies that have written Aboriginal Employment Strategies and have not emphasized the importance of retention. All people have potential and it's how we can support and guide them to develop their capacity
The Program
The program covers the following:
The role of a mentor/buddy
Practical strategies for supporting others
Confidentiality
Problem solving skills
Workplace conflict
Self care
While this course is not accredited the participants will be given an Aboriginal Counselling Services certificate of participation.
Learning Outcomes: The participants will:
Have an understanding of their role as a mentor.
Have the necessary skills to support others.
Understand the importance of the stories that others share and their responsibility to keep these confidential.
Course Length
The program is flexible and can be adapted to suit your individual workplace requirements. It can work with the mentors and/or mentorees either together, separately or a combination. The length is also flexible.
The program is designed as a one-day training for mentors. To achieve the maximum outcome is should be delivered one day each for the mentors and one day for the mentorees. A half day or full day follow up may be added to maximise the outcomes.
Cost: Charged per participant per day.



Anger Management - When the Dust Settles

When the dust settles is an anger management model that develops persons awareness and has a strategy that can be used in a conflicting situation. Given the history of Aboriginal people and being Aboriginal myself, I feel we are probably the most emotional race of people on this earth.

Background
On numerous occasions when I was an adolescent I was confronted with many situations that could of resulted in better outcomes. I was never taught strategies to deal with anger, or ways to resolve issues that would benefit myself to stress less and learn techniques that would not result in me being sacked in a job or have an assault charge against me.

I couldn't be an effective parent in a gaol cell or parent from the grave. I was in an out of employment, so I secured a public service job and enrolled in education at university. The break that I needed presented itself with guidance from the greater spirit and my ancestors; so then I pursued my career now as a Counsellor with a beautiful family and have spiritual strength. I now know not to 'give it value', or buy into an altercation.
The program: The program is a one-day which gives the participants an understanding of the following:

What it is?
What are the causes and ramifications of anger?
What are the physical and emotional signs of anger?
What to do?
Where to get help?
Self Care
The program has a specific strategy that an individual uses when in a confronting situation, and this strategy will be taught during the lesson. I have used the strategy when at work, playing sports, in the home or in the community and has a positive outcome for the individual or the people involved.
The program is facilitated by accredited adult educators and is taught in a way that respects a person's story, and maintains strict confidentiality. We as Aboriginal people want to ensure that participants are comfortable and safe. This program is for any age, gender or cultural background.
We would like to develop insight, resilience and see people have opportunities to grow based on our personal experiences, skills and qualifications.

Course Length: One day (flexible delivery mode).
Cost: Charged per participant per day.

Aboriginal Parenting Practices

The program is aimed at parents and carers of Koori kids, including aunties, uncles, mums, dads, grandparents, out-of-home carers, etc. The program is suited to groups between 10-20 participants.
Background
Many mainstream parenting programs are not particularly culturally sensitive or suitable. ACS has developed a parenting program that is culturally sensitive and incorporates cultural practises, within a realistic environment. The program draws on the life experiences of the participants and our facilitators.
The program facilitators are Koori parents who have experienced the challenges of parenting, they are able to relate to the participants and understand the whole life experiences of the participants. The program is in not way a judgement of the participants and does not assume any prerequisite skills (i.e. numeracy or literacy) that may or may not be relevant to being a parent. The program does not seek to measure what a good parent is or to impose any assumed universal values. The program provides a supportive and comfortable learning environment, which emphasises health and safety.
Overview of the program
Child development – Behavioural, expectations, chores & responsibilities, sex education, discipline/reward systems (how, where, when, why), understanding your child/ren (eg patience, waiting and communicating frustration)
Health and safety - Child protection (sleeping out, teaching about SA), healthy living (food, safety, sleep, hygiene, fun, sport and indoor and outdoor activities)
Environmental planning - Routines (bedtime, eating time, family time, TV time and Illness), being organised (planning in advance), positive communication (emotions, body language, positive language), positive environment (emotions, positive language, drinking, supervision), role modelling and other influences (TV, music, media positive and negative and friends), outing and holidays, schooling (education at school or at home, homework, attendance at school), self image (body image, self esteem).
Self care (seeking support/professional help) - Looking after your self
Learning Outcomes
Participants will gain tools and strategies to better cope with the everyday challenges of parenting that include:
Behavioural
Health and safety
Environmental planning
Self care (seeking support/professional help)
Course Length
4 half-day sessions is preferred delivery model however this is flexible depending on the audience requirements.
Cost: Charged per participant per day.

Professional Coaching

ACS facilitators are professional and have experience working in both the government and private sectors, in particular community support and development roles. We approach Professional Coaching like all other training and counselling in a non-judgemental way and set out to support participants and build confidence. We take a strength-based approach to obtain the best possible outcomes. We utilise the resources that are already in place for staff, and give participants skills on where and how to access these resources.
Background
Professional coaching is a tool that can assist a person to develop improved workplace skills, but really equips individuals to be better people. At various times in our lives we all need assistance and or guidance. Professional coaching is a program that is designed to assist and support workers particularly in community support roles. As Aboriginal people we have been presented with various challenges, and one of these challenges is trying to balance the conflicts between work and family. With professional development, l learnt to 'make decisions not excuses' considering my priorities and responsibilities.
The Program
Professional coaching includes:
Self care and stress management
Conflict resolution and problem solving
Time management and organisational skills (Planning and ethics)
Self-assessment (training needs)
Career development, goal setting and decision-making
Communication
Balancing family and work.
The program is flexible and can be easily tailored to suit individual workplace requirements. Some of the units in the program can be added or deleted; however the units listed are recommended.
Learning Outcomes: Participants will:
Have practical skills relevant to their workplace and community.
Achieve an understanding of how they can meet both their work and family commitments.
Gain an improved understanding of their responsibilities in the workplace.
Be more productive and committed in the workplace.
Course Length
This course is designed as a one-day program, however it is flexible depending on the units that are required.
Cost: Charged per participant per day.


Grief and Loss – Let the Rivers Run

Grief and Loss or Sorry Business is a time that we need to look after ourselves. 'Let the River Run' is a program developed to help people understand and deal with 'Sorry Business'. Its not about getting over it…… Grief and loss is common for Aboriginal people and communities. Like a river, tears need to flow and the heartache has to happen. By stopping this process or damming up a river, it can be damaging to the environment. Stopping your natural coping skills could cause further distress, worries, depression, isolation and self harm or even suicide. Spirituality is a
Background
With larger families and shorter life expectancies, it is estimated that Aboriginal people experience loss at rates at least twice the rates of others. Often Aboriginal people have accumulative and complicated grief. As counsellors we approach grief with a view to managing the associated issues not overcoming or alleviating it. There are also other factors that can cause grief and loss such as life transitions, terminal illness and unexpected trauma. Relationships are very important part of our lives, so it is how we develop new relationships with the deceased, the family and the community.
Self care
Spirituality
Understanding Grief
Safe/special places
Cleansing

Crisis Counselling for Kooris
( Program currently being developed )
Our training is aimed at developing insight and resilience. Like our culture, we have come along way with the guidance of our ancestors and the greater spirit so we want to share our knowledge, skills and experiences to empower people.